5 Problem-Solving Self-Care Solutions
Read the Full Article Here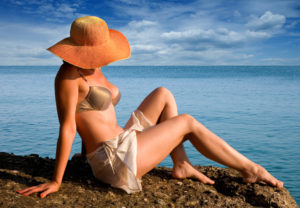 Ever on the hunt for consumer goods that solve ubiquitous annoyances, I've come across a selection of self-care solutions that can be of particular benefit during the spring and summer season in particular. Here are five mention-worthy items that may just enhance your hair, skin and dietary regime in the months ahead.
Essential Eyebrow Solution (www.EssentialEyebrowSolution.com) – $90 – $135
Full, natural eyebrows are in! But you need not make schedule-and-budget-busting visits to a doctor or succumb to painful needles to get full, natural looking eyebrows. With Essential Eyebrow Solution (EES) you can maximize eyebrow volume and get the full, natural look you crave. It's been scientifically formulated through years of development and clinical testing to support thinning eyebrows, and this clinically-tested formula gives users thicker, fuller looking eyebrows with every application. Infused with the natural botanical black cohosh, EES is a patented formula that nourishes, conditions, and revitalizes eyebrow hair. Noting that eyebrow hair differs from scalp hair in several respects, the EES research team discovered that eyebrow follicles responded positively to the properties of black cohosh, a natural botanical plant. No cosmetics, no painful tattoos, no transplants. It's the real you!
Dr. Marder Scalp Therapy Total Relief Shampoo & Conditioner (www.DrMarderSkincare.com) – $30 each
Developed by dermatologist Dr. Gary L. Marder, the Scalp Therapy Total Relief Shampoo and Conditioner products are specially-designed to provide potent, professional-grade relief to everyone — especially those who cannot get into a dermatologist's office with regularity to rectify itchy, irritating scalp conditions that can impede hair growth. The Dr. Marder Total Relief-brand products contain a proprietary botanical complex that includes a unique formula of natural extracts, vitamins and antioxidants, including resveratrol, citric acid, coriander fruit oil and coconut oil, whichhelp relieve dryness and dandruff. It also soothes and heals scalp skin to prevent those infuriating scratch sessions. Dr. Marder Scalp Therapy's proprietary formula is different from other over-the-counter dandruff products on the market. Most notably, the shampoo contains maximum strength hydrocortisone — a highly effective corticosteroid remedy used to treat psoriasis, seborrheic dermatitis and other conditions that can cause scalp swelling, itching and redness among other ailments. These Total Relief Shampoo and Conditioner products also don't contain sulfates or common irritants found in a great number of hair products. The system essentially bridges the gap between traditional dandruff treatments and those who need "a little something more" to nourish and rectify incessantly dry, flaky and scaling skin.
PrivateRX Cooling Pads &
Private RX Soothing Serum (www.PrivateRX.com) – $15.99 each
Developed by Dr. Ronald D. Blatt, Medical Director and Chief Surgeon of the Manhattan Center for Vaginal Surgery and the Manhattan Centers for Women's Health, PrivateRx Cooling Pads and Soothing Serum products are specially formulated for those who shave or wax the bikini area but experience problems such as bumps, irritation and ingrown hairs. To counteract this, the area should be treated with products that will cleanse and reduce microbes. However, the best ingredients for cleansing tend to dry the skin naturally. Moisture is needed to restore suppleness and prevent further irritation. No one product alone can treat both of these conditions. That's why Dr. Blatt created both the PrivateRx Cooling Pads and Soothing serum feminine bikini care products. When used in conjunction with each other they have a synergistic effect. They're specially formulated to safely cleanse and calm delicate skin after bikini line shaving or waxing and help relieve irritation and prevent razor bumps. Each Cooling Pad is a soft-beaded cotton pad that gently exfoliates dry or dead skin cells to help free ingrown hairs. The Soothing Serum, to be used immediately after the Cooling Pads, is formulated to deliver and lock in concentrated moisture on delicate skin areas after shaving and waxing. Now women can always feel confident in that bathing suit while at the beach or pool!
Slenderiiz (www.Ariix.com) – $30 – $165
Maximize your diet and weight management potential this season with Slenderiiz, an all-natural, 3-phase program to help you prepare for ultimate weight loss, fat burn and maintenance of your goal weight. Slenderiiz is reportedly the only healthy and natural weight management system of its kind, showing improved results over diet and exercise, alone. To expedite weight loss, the scientifically advanced Slenderiiz products assist in controlling appetite and increasing metabolism to help maximize your efforts. The Slenderiiz program is a simple and effective tool for successful fat reduction that promotes pound shedding and decreases the odds of problematic rebound weight gain. The homeopathic ingredients and vitamins in the Slenderiix and Xceler8 drops work to curb hunger, increase energy and metabolism. Then there's PureNourish, a premium nutrition plant-based protein powder made with 10 Vitamins, 7 minerals, 9 probiotics and fiber. Add a scoop of their other great-tasting drink mixes-PowerBoost or BeautyBoost—to your smoothie to help improve stamina and increase weight loss. All told, Slenderiiz is a delicious way to get ready for swimsuit season.
BIOHM (www.BiohmHealth.com) – $49.99
Here's a really easy way to maintain digestive balance: try BIOHM—the world's first and only probiotic that's engineered to address the significant role fungi plays in digestive health. Considered the next generation performance probiotic, this product combines beneficial fungi strains, beneficial bacteria strains and a powerful enzyme developed to break down digestive plaque and maintain total balance in the digestive system. It turns out that fungus may be more important than bacteria in digestive health, and ignoring fungi (as most probiotics do) is said to be like ignoring the 800-lb. gorilla in the digestive track. BIOHM's patent-pending formulation was guided by the cutting edge research of Dr. Mahmoud Ghannoum, Ph.D., MBA, FIDSA.  It comes in a daily capsule form within a heat resistant jar, which protects BIOHM's 30 billion live cultures of good bacteria and good fungi. This supplement is ideal for anyone who wants to maintain a healthy gut microbiome, promote optimal digestive health, and support his or her immunity. For the estimated 15% of Americans who suffer from digestive challenges, BIOHM is engineered to relieve occasional digestive issues such as, upset stomach, diarrhea and bowel irritation. BIOHM's strains have also been proven to break down digestive plaque while supporting immune health as well as overall digestive health.
~~~
As the Executive Editor and Producer of "The Luxe List," Merilee Kern is an internationally-regarded consumer product trends expert and hospitality industry voice of authority—a travel, dining, leisure and lifestyle expert who spotlights noteworthy marketplace innovations, change makers, movers and shakers. She reports on exemplary travel destinations and experiences, extraordinary events and newsworthy products and services across all categories. Reach her online at www.TheLuxeList.com, on Twitter at www.Twitter.com/LuxeListEditor, on Facebook at www.Facebook.com/TheLuxeList and on Instagram atwww.Instagram.com/LuxeListReviews.
***Some or all of the accommodations(s), experience(s), item(s) and/or service(s) detailed above may have been provided or sponsored at no cost to accommodate this review, but all opinions expressed are entirely those of Merilee Kern and have not been influenced in any way.***